Peace Tour – FC Barcelona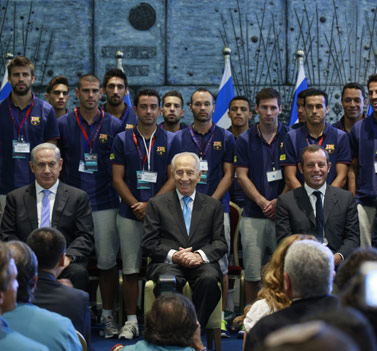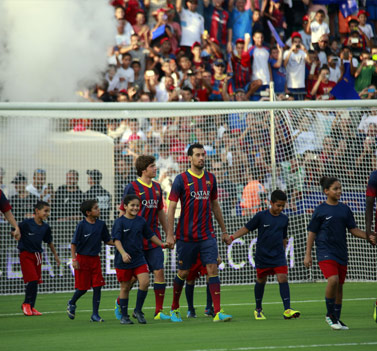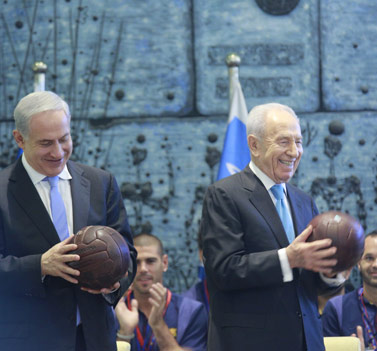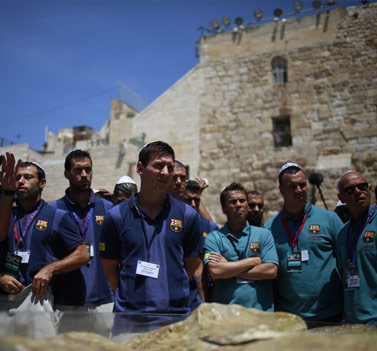 During the summer of 2013, an official FC Barcelona delegation traveled to Israel and the Palestinian Authorities for a historic trip to strengthen institutional ties with the leaders of the two communities and build bridges of dialogue for peace. The Peace Tour was an initiative that had the invaluable support of the Israeli government and the Palestinian Authority leadership. In addition to institutional visits, the visit included two football training sessions for peace where all FC Barcelona's stars including Leo Messi, Neymar Jr., Xavi, Iniesta, Pique trained with children, both Israelis and Palestinians.
On Saturday August 3rd, the FC Barcelona delegation arrived at Ben Gurion Airport in Israel and moved to Bethlehem to visit the Basilica of the Nativity. Following the visit to the Basilica they met the Chairman of the Palestinian National Authority, Mahmoud Abbas, and local authorities. Then the delegation made its way to the Municipal Stadium in Dura (near Hebron), where the first football training of the Peace Tour was hosted. The following day, Sunday August 4th, the delegation and the team visited the Western Wall in Jerusalem before the official reception with the Israeli Prime Minister Benjamin Netanyahu and the Israeli President Shimon Peres at the presidential residence. That afternoon, the team arrived to the Bloomfield Stadium in Tel Aviv-Jaffa, where the second training was hosted. The training at the Bloomfield Stadium consisted of workshops and a diverse array of mini-games in which dozens of children from the Peres Center for Peace and the Israeli Ministry of Education participated and interacted with the FC Barcelona players. The stadium was full of children and as a part of the event, the Israeli Ministry of Education, headed by Minister Rabbi Shay Piron, launched "The Other is Me" initiative to increase tolerance and peace in the country's educational system. The trip to Israel and the Palestinian Authority was a great success for the FC Barcelona which strengthened its image as the most loved football club in the region; and was covered by hundreds of media outlets worldwide. Comtecgroup had the honor to organize and produce the Peace Tour for FC Barcelona.